For fashion brands and designers
Design your products for circularity and define your strategy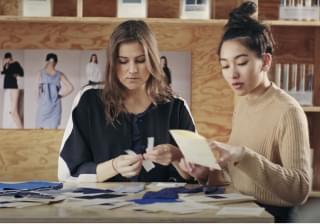 We conduct circular design workshops that help fashion brands design their products for circularity. These workshops are based on design thinking methods including hands-on ideation and prototyping.

Through sharing state-of-the-art research, progressive industry knowledge and concrete methods for circularity, we help you make the transition to circular practices in every step of the value chain and your business model.

Trained by our expert coaches, multi-disciplinary teams will work on concrete product challenges from your own brand. You will develop a holistic concept build on circular materials, design stratgegies for longevity and cyclability, circular retail models as well as reverse supply chain logistics.
Get a solid grounding in the key concepts of circular fashion with a clear understanding of circular materials, latest recycling technologies, and design strategies for material cyclability and longevity.
Be able to set priorities for circular design solutions, target your most important products and align them with your brand's DNA.
Have a pool of ideas to draw from for upcoming collections and discover that circularity is not a limitation but a driver for innovation and creativity.
Our workshops are customisable and tailored to your specific needs. Depending on the focus, they can run for a few hours, or over the course of a couple of days. The workshop can be conducted either in person or virtually through the use of online collaboration tools such Miro and Zoom.